To the Defenders of Our Nation: Thank You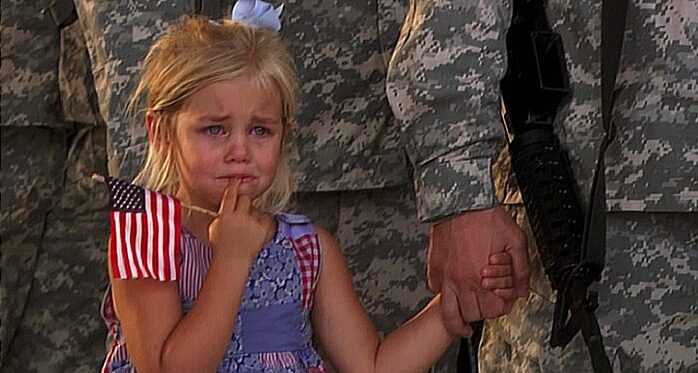 To Our Heroes, Our Defenders 
Thank you to the defenders of our nation. You make many, many sacrifices. You miss birthdays, anniversaries, and holidays, and miss the arrival of your baby and that baby's first steps. You worry about family members while deployed, but you defend me anyway. In addition, you've been wounded, and sometimes gravely. You've been terrified, and you've lost buddies, but you defend me anyway. For some of you, your faith was shattered. And all too often, once you return home, your sacrifice continues as you struggle with grief and perhaps survivor's guilt, or post-traumatic stress disorder. To make matters worse, some of you struggle with re-integration once you return home, but you stood on principle and went to a dangerous place far away anyway. For all these sacrifices and more, I thank you.
To Their Families
To the spouses who are left on the home front to raise children often for multiple deployments, thank you. I recognize that you will struggle with grief, feelings of abandonment, and fear. Sometimes you must adjust by making physical changes to your home to accommodate your hero when he returns with a traumatic brain injury, a diagnosis of post-traumatic stress, and/or a physical disability, or other complicating factors. 
To the children who spent several of their developing years without the deployed parent present, thank you. I recognize that you as well will struggle with grief, feelings of abandonment, and fear. For all these sacrifices, I thank you.  
Thank you to the defenders of our nation who never made it home. I thank your parents, your spouse, your children, your siblings, your aunts, uncles, cousins, and friends. In your darkest hour, the world lost a hero who chose to defend you and me.
Resources
Many of the defenders of our nation are only looking for a genuine "thank you" when so much more is in order.
The mission of the Gary Sinise Foundation is "To honor the nation's defenders, veterans, first responders, their families and those in need; to provide and support unique programs designed to entertain, educate, inspire, strengthen and build communities." To all of you who can take advantage of this foundation, call them. Check them out. They want to help you.
The USO works to "strengthen America's military service members by keeping them connected to family, home, and country, throughout their service to our nation." If you live close to a USO, call them. They want to help.
The Disabled American Veterans (DAV) organization's single purpose is to "empower veterans to lead high-quality lives with respect and dignity." Call them.
Military OneSource offers a multitude of services to you who are active duty or to those of you who are not more than 180 days past the end of your tour of service. They have providers all across the country ready to provide various services to your family as well. Check them out and call.
The Veteran's Administration is there for you more than ever. You can get help in your community now that is authorized by the VA. You no longer have to drive to your closest VA hospital.
How to Help
If you are someone who would like to thank the defenders of our nation, you can always donate your time and your money. You could welcome home returning active duty military at the airport with your friends, your church or synagogue, or with the USO. The DAV is always looking for donations. The Gary Sinise Foundation looks for your time or your money. If you're a health care provider, you can request materials from any of these organizations to hand to your clients.
It is Gary Sinise who said, "While we can never do enough to show gratitude to our nation's defenders, we can always do a little more."